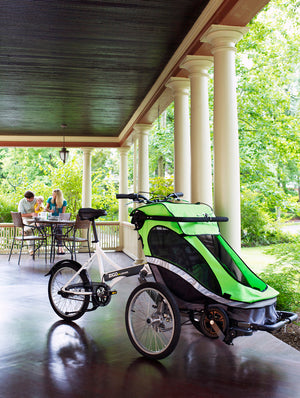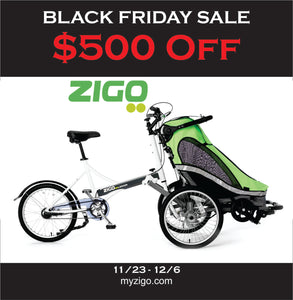 Save $500 + Free Accessory Kit
Save $500 on a Zigo Leader Carrier Bike + get a free accessory kit (Jogger Kit, Trailer Kit, Environmental Control System Rain Cover)
Buy Now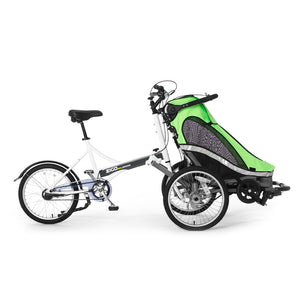 FREE ACCESSORY PACKAGE
Order now and we will include a free jogger kit, trailer kit, rain cover and ECS.
The Zigo Leader Carrier Bike is the future of transportation. Use as a three-wheeled child carrier bike, a stroller, a trailer, or an urban bike. Converts in seconds.

In sight and in control
Keep your kids where you can see them. The Zigo Leader allows children to ride in full view of the pilot. No more awkward twisting around to see a rear-mounted baby bike seat or baby bicycle trailer.

One brilliant design, five fabulous functions
Using LeaderLink technology, the ChildPod stoller is easily coupled or uncoupled from the Cycle in a matter of seconds, creating a fully functional baby stroller (or jogging stroller with optional Zigo Jogger Kit). And of course the Leader Cycle is a practical multi-speed city bike, perfect for around town errands or recreational riding, with or without the ChildPod. With the optional Trailer Kit, the ChildPod can also be used as a conventional bike trailer.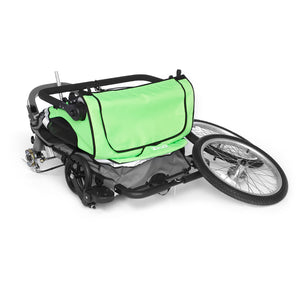 Big Concept Small Footprint
And we're not just talking carbon. The Zigo Leader ChildPod can fit in the trunk of an economy size vehicle or a typical closet. The ChildPod stroller easily rolls through standard doorways. Pop off the Pushbutton Release Wheels, fold the ChildPod flat, and you'll barely know it's there.